BOOKING FOR SHOWS
Email: bookings@greencircus.org
Upcoming Events
---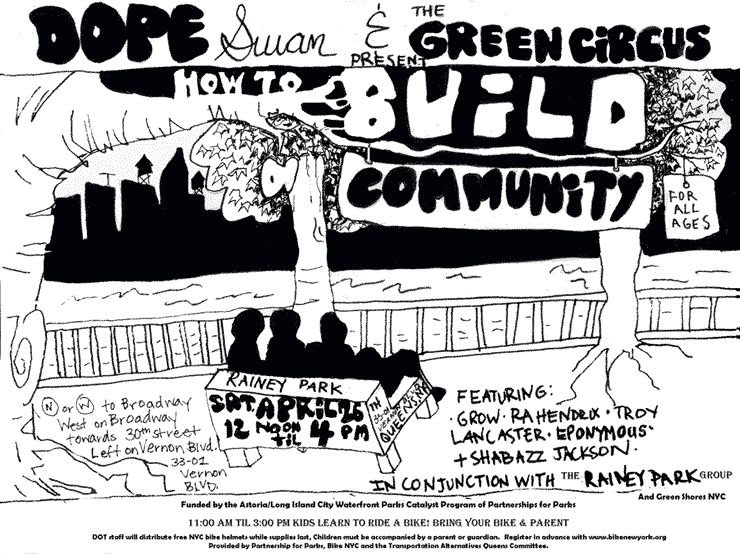 April 26th- 2008 noon-4pm
Earth Day in Rainey Park
33-01 Vernon Boulevard, New York, New York
Astoria Waterfront
12pm: Tree planting to buffer the power plant over the wall.

1:30pm: "How To Build a Community" performed by spoken word artists: Safahri Ra, GROW, Sallomé Hralima.

2pm: Jazz music.

2:30pm: Shabazz Jackson, propietor of Greenway, Boilogical Waste Management and Troy Lancaster, Founder of Dread Scott Bird Sanctuary in the South Bronx will speak on the importance of community involvement in determining local land use.

3:00pm: Workshops: Stilt walking, juggling, plate flipping

3:30pm: Nature Walk


DOPE SWAN is a community arts organization focused on providing outlets that support and engage emerging creative talents within the visual and performing arts. Through collaborations with underrepresented artists and partnerships with educators, activists and community leaders, DOPE SWAN works to strengthen the connections between art, livelihood and community.


---

Sat May 3rd 1-4 pm
Green Circus Rock it in Rockaway
Rockaway Beach
---
Past Events
---
October 31st- 2007 4-6pm
Halloween- Block Party
New Settlement Apts
170th St- South Bronx
After over a year in absence the Green Circus returns to the South Bronx with new members, to share sweet potato chips, show the folks how sweet potatoes are grown, share sumac tea and discuss the many uses of willows. This marks the first, but not the last collaboration between the Green Circus and the many increadible programs taking place in the South Bronx at New Settlement Apts.
---
January 21, 2006
The Uncertain Times of Terafirmia
Stain Bar 766 Grand St.
L to Grand St, 1 block
West between Humboldt
and Graham
$5 suggested donation — no one turned away at the door
The Green Circus will present new work and have new media available for purchase.
---
Friday Nov. 18th- Sunday Nov. 20th 2005
PUPPET WORKSHOP
School of the Americas Watch
around Fort Benning, Georgia
The Green Circus will be working with the Puppetistas who have a circus called Uncle Sam and his Little Global Circus.
---
Friday Nov. 11th, 2005 6:45-7:15
Eco-Metropolis
CUNY Grad Center
Concourse (lower) Level
5th Ave btwn 34th and 35th St.,
The Green Circus will be meeting atendies and bringing them into the evening event as part of the Eco-Metropolis Conference which lasts all weekend.
---
Friday Oct.14 7:30am, 1:30pm, and 10:30pm
season one: art or something like it
tv appearance on channel 75 (CUNY TV in nyc)
www.artorsomethinglikeit.com
CUNY TV can be viewed on most cable systems in the New York metropolitan area on Channel 75* as part of NYC TV, the City's cable television network.
* Some RCN digital cable and MMDS systems carry CUNY TV and/or NYC TV on different channel numbers. For example, some RCN systems in Manhattan and Queens carry CUNY TV on channel 24, 106 or 108. Please consult your cable provider directly to be sure.
---
Saturday Oct. 1st, 2005 noon-4pm
Yonkers River Festival
Bekzac Environmental Center
Hudson River Estuary
Yonkers, NY
The clever clowns lead a group of forest creature children on a march through the streets of Yonkers to promote the Bekzac Environmental Center, singing songs and improvising cheers. Smog Gog played some tunes with the guy from the materials exchange. The Green Circus performed, and again witnessed the increadible pagentry of Arm of the Sea, as they did their peice about the Hudson Estuary.
---
Sunday Sept. 25th, 2005 11am-4pm
Lincoln Center
New York, NY
Verde Verdanta and Hempy the Clown visited incognito to hear lectures on sustainible energy and plan for an appearance at this event next year.
---
Sunday Sept. 25th, 2005 10am-6pm
GreenConference
The Conference Center
Washington, D.C.
James Green and Rainbow Genesis met many stars of the green scene including Charez the rapping bio-diesle mechanic from grassoline.com.
---
Sunday Sept. 18th, 2005 11am and 2pm
Imagine Peace Festival
Aminia, NY
The Green Circus twice performed a new sketch about looking for peace. The first performance was on the Grove Stage in the Peace Village. The second was along the Peace Path followed a spectacular puppet show by Arm of the Sea. The Green Circus also met with Bread and Puppet on the 17th and Smog Gog performed his tribute to New Orleans for the first time ever.
---
Friday August 19th 10:30am-2:00pm
Animal Adventure Camp
Courtlandt Garden
on 158th St btwn. Courtlandt and Melrose Aves
Melrose, Bronx
4 train to 161st and Yankee Stadium
The camp will be running until August 28th. For more info on the Animal Adventure Camp please call
Aresh at: (718)-585-2109.
---
Monday, August 15th @ 3pm
Instrument Making Workshop
The Urban Assembly School of Business
for Young Women
420 E.12th St. (btw 1st & 2nd Ave.)
L train to 1st Ave, M9 to 12th St., M14 to 1st Ave.
More info soon!
---
Friday August 12th 10:30am-2:00pm
Animal Adventure Camp
Courtlandt Garden
on 158th St btwn. Courtlandt and Melrose Aves
Melrose, Bronx
4 train to 161st and Yankee Stadium
The camp will be running until August 28th. For more info on the Animal Adventure Camp please call
Aresh at: (718)-585-2109.
---
Friday July 8th 10:30am-2:00pm
Animal Adventure Camp
Courtlandt Garden
on 158th St btwn. Courtlandt and Melrose Aves
Melrose, Bronx
4 train to 161st and Yankee Stadium
This was alot of fun dispite the rain, and the kids decorated instruments, played powerball and made their own super hero cards in Mr. Murry's church. We all watched some of the Green Circus DVD together. Green Circus has been offered chance to work with these kids again, either Aug 12th or 19th. Transportation and food was generously donated by More Gardens. The camp will be running until August 28th. For more info on the Animal Adventure Camp please call Aresh at: (718)-585-2109.
---
JUNE 18-21st
BioDemocracy 2005
the commons Philadelphia, PA w
Members of the Green Circus convened in Philadelphia from June 17th through the 22nd for the Bio-Democracy Conference. They came from places as far flung as Chicago and New York City to participate and learn. Circus members had been to Arizona, California, Tennessee, Florida, Illinois and all places in between that Summer, but this weekend they were in Philadelphia. The Bio-Democracy conference was an alternative conference to Bio-Tech, in which bio-technology and pharmaceutical companies like Monsanto and GlaxoSmithKlein met to discuss their plans for genetically engineering plants, animals, bacteria and in some cases even human tissue. Some of their experiments have proved hazardous to the environment, small farmers and farm workers, as well as the progress of developing nations. read more...
---
JUNE 1st-5th
World Environment Day 2005
San Francisco
The agenda is to give a human face to environmental issues; empower people to become active agents of sustainable and equitable development; promote an understanding that communities are pivotal to changing attitudes towards environmental issues; and advocate partnership which will ensure all nations and peoples enjoy a safer and more prosperous future. World Environment Day is a people's event with colourful activities such as street rallies, bicycle parades, green concerts, essays and poster competitions in schools, tree planting, as well as recycling and clean-up campaigns.
---
Saturday May 21st
Rites of Spring Pageant
lower east side, NYC
---
Saturday April 30th 6pm
CIRCUS FUNTASTICO!
A very special Benefit
for and by the Green Circus
Featuring Musical Performances by:
KARMA SUTRA
VIC THRILL
AXIS MUNDI
Stain Bar
766 Grand St. L to Grand St.
1 block west between Humboldt and Graham
$7-15 sliding scale
$5 with flyer
Happy Hour 6-8pm
Short Film Showcase and Some Yummy Organic Food
Performances start at 8pm
---
Sunday May 1st @ noon on screen 6
Screening Green Circus episode 1:
"The Pilot"
Director: Justin P. Finley
Genre: Absurd Surrealism 18 min
Colorful icon Hempy the Clown is arrested by Officer Valance, for unknown reasons.
News reporter, Drala: Earth Goddess suspects that business-mogul Smog Gog is
behind the incarceration. As she interviews gas attendant; Petro Lium, international
sensation; Gail Force, Smog Gog and a little boy, it becomes increasingly clear that
her suspicions are justified.
Village East Cinema
181 2nd ave
---
Saturday April 23rd 2-5pm
Earth Day Celebration
Queensbridge Park
Under the Queensboro Bridge
across from Queensbridge Housing
F train to 21st St
presented by Partnership for the Park
http://astoriawaterfront.org/earthday2005
---
Friday April 22rd noon-5pm
Performance at 2pm
Earth Day Celebration
Brook Park
141 St. and Brook Ave.
South, Bronx New York
#6 Local Subway - Ride to Brook Avenue
get off at Brook Ave. Walk up 3 blocks to 141st - the park is on the corner
---
saturday, April 9th,
11:45AM-1:15PM
Raising Environmental Awareness through Multimedia Activities
at the 2nd annual NYC Grassroots Media Conference April 9th and 10th, 10am-6pm
Sponsored by the Department of MediaStudies Masters Program and organized by Paper Tiger Television
The conference theme, forging stronger connections between independent media and communities organizing around issues of justice and equality, seeks
to address pressing issues of representation and diversity within the NYC community. The conference will hold more than 50 hands on workshops and panels
including youth-led workshops, do-it-yourself media workshops and media policy workshops: hip hop and activism, grassroots press campaigns for social justice,
how to build your own web site, video production for youth and more.
The New School University
65 5th Avenue between 13th and 14th Streets.
You can take the N/R or 4/5/6 to Union Square

www.nycgrassrootsmedia.org
Register on-line! or call Paper Tiger at (212) 420-9045.

$20 Adults
$30 Day of conference registration
$8 Youth (21 and under)
Scholarships are available.
Group rates and discounts for youth are available
---
Saturday, March 5th 12:30pm-5:00pm
Speak Up '05 - Using Green Spaces to Build Community

coordinators: Bronx Coalition for Parks and Green Spaces

Lehman College, The Bronx
---
FRIDAY February 25th, 9pm-4am
THE BIO TOUR Benefit party!!
Alwan for the Artswww.alwan.org
16 Beaver Street,
in the Financial District between Broadway & Broad
Featuring Great Dance Music including drum-n-bass, techno, house and world grooves with
DJs Chrome, Jason BK, and Miko Wanderlust

Plus projection artist
Paul Clay www.fictive.net
with his unique and artistic video mixes

Body painting and vibes by
the Galaxy Girls

Art and Propoghanda by
Complacent.org

Environmental performances by
The Green Circus

and much more!

The evening will start at 9:00 with a brief update of the latest developments with the vegetable-powered BIO-BUS and related activities including projected pictures from our last cross-country trip!

9pm till 4am
$7 to $15 Sliding Scale donation
(Money collected will go towards keeping the BIO-BUS and the BIO TOUR project going strong for sustainable energy in 2005!)

Driving Directions:
Straight south Broadway past Wall St.
Take the left fork at the giant bull
Beaver is first Street on left.
Alwan is 1 1/2 blocks East on Beaver.

Subway: 4,5 Bowling Green R,W Whitehall
2,3 Wall Street J,M Broad Street 1,9 South Ferry

P.S. This will also be a celebration of Arrow?s
B-Day, so please come!

www.biotour.org

www.blackkat.org
---
monDAY January 31th, 1:15-2:45pm
2005 Gandhi-King Season for Nonviolence
Healing Our Planet: Youth Take Action for Environmental Responsibility
the United Nations
btwn 46th and 45th on 1st Ave.
Conference room 2
This event is in honor of environmentalist Wangari Maathai of Kenya winning the 2004 Nobel Peace Prize.
2005 begins the UN Decade of Education for Sustainable Development.
The event highlights New York City youth addressing environmental injustice in their communities with presentations by youth, documentary film screenings, music and a peace heroes flag ceremony. Invited speakers include the great grandson of M.K. Gandhi. 600 middle and high school students re invited to participate in this peace education initiative honoring the lives of M.K. Gandhi and Martin Luther King, Jr.
Green Circus will be performing a new skit, "A Mock Trial on Environmental Justice".
If you wish to attend, please register by January 14 to 212.246.2746 or Jwretzel@templeofunderstanding.org.
Click here to download the flyer for the Gandhi-King Season For Nonviolence
---
friDAY January 14th, 6 pm
Zine Release Party for Radical Teachers
The Brooklyn Free School
120 16th St. and 4th Ave.
Park Slope, Brooklyn
M or R to Prospect Ave.

The Green Circus will be showing shorts, performing and body-jaming workshop with James Green.
Performances by The Rude Mechanical Orkestrah and local kid bands
---
---
Sunday, December 5, 2004
Farewell to the Gardens

Activists, locals and community organizers said a sad farewell to 3 beautiful South Bronx Gardens that had been built by children and adults from the community. The gardens were being bulldozed to make way for more apartments. The Green Circus performed, Hempy the Clown vs. Powee Powerplant hosted by Psychic Fabulina. Special Guests - Gail Force and Sammy Solar. Hempy was acompanied by his mentor James Green and the event was recorded by Green Circus Television reporter- Neo-Genesis.

Cortlandt Gardens (South Bronx)
---
Friday, December 3, 2004
The Most Fun, Ever

3rd, 4th and 5th graders from P.S. 295's environmental enrichment class were taught about the local plants, did laughter meditation, yoga and energy ball, learned how to make recycled instruments out of rubberbands, bottles and cans, and drew super-hero self-portraits using googly eyes and juice from ink berries that they picked in the garden. School Librarian and mother; Susan Weseen called James Green only an hour later to thank The Green Circus and let them know that several students had told her that it was "The most fun (they) ever had." Students also decided that they wanted their class project to be on all the things you can make out of recycled objects. So once again, The Green Circus has paved the way to a brighter future by inspiring the leaders of tomoßrrow and showing them how to Keep it Clean and Keep it Green.

6-15 Community Green Garden (Park Slope)
---
TUESday, NOVEMber 22, 2004
We're big kids too!
GREEN CIRCUS did it in the South Bronx, not the Bronx Zoo
and they taught 90 4th Graders things they never knew.
With paper that flew and rubber band guitars
they took these kids minds out to the stars.
They learned, "Thanksgiving is the seasonal harvest."
and so for that reason that, they turned into a forest.
Later on they turned into a junkband chours.
With a ha-ha-ha and zoobity-doo...
They went around the circle in groups of 22.
Parents and Teachers? Yeah...they had a few.
Harry from the garden and Ayer were there too.
I think you'd say it was a nice little crew.
We walked the walk, we talked the talk
and some got to draw with the side-walk chalk.
---
Sunday, October 31, 2004
NAMASTE FAMILY WORKSHOP
It's Circus Yoga -
Halloween Style!
With Rana Lee Araneta & Jenny Sauer-Klein

1:30 - 4:30 PM with a public show at 4:15pm

$30 Adults / $20 Kids – ages 6-12. ($35 Adults / $25 Kids on day of event)
Registration required as space is limited. All children must be accompanied by an adult. Kid-like adults may come without children.
CIRCUS YOGA for Kids and Families combines the depth and consciousness of yoga with the communal ceremony and celebration of circus. This event invites all members of the family to participate fully and joyfully, finding new forms of play and togetherness. We will create a sacred circle that embraces all ages and abilities, and encourages trust, courage and collaboration. Exploring new roles and skills, we will develop a vocabulary for play and communication that includes:
• Story creation thru hatha yoga
• Juggling and skill toys
• Contact/partner yoga & partner acrobatics
• Creative movement & physical comedy
Simple partner massage
Our session will end with a short ceremony-show free to the Rockridge community at 4:15pm. We encourage you to bring your Halloween costumes and accessories for the show, as long as you can comfortably move in them.
Jenny and Rana are certified in Circus Yoga from its creators, Kevin & Erin Maile O'Keefe of Circus Minimus in NYC. They have been teaching yoga and circus arts in after school programs, summer camps, and retreat centers across the country. They are currently teaching Circus Yoga classes in after school programs in San Francisco and the East Bay and are excited to share this work with the San Francisco/Bay Area yoga community.

For more information, visit
www.namasterockridge.com
510 547 YOGA 5416 COLLEGE AVE. / OAKLAND, CA 94618
---
Saturday October 30th
GREEN CIRCUS and YOGA TREE present:
Circus Yoga for Kids and Families
with Rana Lee Araneta and Jenny Sauer-Klein

1:15-4:15pm, with a public show at 4pm
519 Hayes St @ Octavia, San Francisco
Cost: $30 Adults, $15 Kids, ages 7 and up
To Register: call 415 626 9707 or go to
http://www.yogatreesf.com
CIRCUS YOGA for Kids and Families combines the depth
and consciousness of yoga with the communal ceremony
and celebration of circus. We will create a sacred
circle that embraces all ages and abilities, and
encourages trust, courage and collaboration. Exploring
new roles and skills, we will develop a vocabulary for
play and communication that includes:
*Story creation through Hatha yoga
*Juggling and skill toys
*Contact/partner yoga & partner acrobatics
*Creative movement & physical comedy
*Simple partner massage
Our session together will end with a short
ceremony-show free to the Yoga Tree public at 4pm. We
encourage you to bring your Halloween costumes and
accessories for the show, as long as you can
comfortably move in them.
---
SATURDAY and Sunday, October 9th & 10th
Environmental Autumn Olympics and Workshops
("Art or Something Like It" WNYE TV Shoot)
Solar One
in stuvesant Cove Park
18th to 23rd St. at the FDR
1pm both days RAIN or SHINE
URGENT! Forest Creatures needed!
Call Hempy: 9 1 7 - 5 2 3 - 8 2 0 1
www.cecenter.org (free)
---
SATURDAY and Sunday, September 25th & 26th
World Unity Festival
2 day festival to experience, educate and enlighten humanity on the interconnectedness of all life.

Saturday 2:30 pm - "Environmental Olympics" Performance

Inwood Hill Park
W218th St and Indian RD.
MANHATTAN

10am to 8pm RAIN or SHINE

www.worldunityfestival.com (free)
---
September 12
Delectable Day of Play
A Benefit for Underprivileged & Foster Care Youth

2pm - 4pm
Circus Yoga for Kids and Families
combines the depth and consciousness of yoga
with the communal ceremony and celebration of circus.
Our playtime is facilitated by:
(1)story creation thru hatha yoga,
(2) juggling and skill toys,
(3) contact/partner yoga and partner acrobatics,
(4) creative movement and physical comedy.
Participants will have the option of sharing their new skills
in a short yet spectacular "Green Circus Super Kids!"

4pm performance presented by Rana Lee and Jenny Sauer-Klein on the DDOP Kid's Stage.

civil center piazza
in front of CIty Hall
Polk @ McAllister
San Francisco
noon to 5pm
www.ddop.org
---
SATURDAY, june 12
1st Annual Kick Off Fundraising Party For The Healing World Foundation
Forum, Food and Fun highlight First "Healing World Day"
Celebration of Traditional Healing Practices

La Perla Community Garden
West 105th Street
just East of Columbus Ave.
3pm to 10pm RAIN or SHINE
---
SundaY, may 16
WILLIAMSBURG ANIMATION FESTIVAL
to benefit the gwwtf
Environmental Theatre with The Green Circus

THE WARSAW
261 driggs avenue
3pm to 10pm
---
SUNDAY, MAY 9
M*A*M*A's MOTHER'S DAY FESTIVAL
theatre and movement for the kids and adults
La Plaza Cultural at 9th and Ave. C
Also cartoonist katherine arnoldi, prison activist ayo harrington, a wokshop on parents rights and protests from peoples law collective, a mama-student speaker from SLAM, the colorado sisters on the nyc zapatistas, graciela who does puppet shows on the argentina autonomistas, the mahina movement, the lower east side girls club, kids activities by artist steph basch and the radical teachers
---
SATURDAY, April 17
INTEGRAL YOGA'S EARTH DAY MEET AND GREET
come visit our table and see what new in renewable energies,
learn how to hula hoop, check out our solar oven and more
---
The Green Circus in SAN FRANCISCO Presents:
ENVIRO-STILTS!! MAKING & WALKING Weekend
Saturday January 17th
10am-4pm – building, eating, and building

Sunday January 18th
10am-2pm – walking, eating and playing
Woodshanti, 1485 Bayshore Blvd, No. 149, SF, CA 94124

How Much:
$150, includes all instruction, materials, and hands on help from expert wood crafters – make your own pair of stilts from sustainably harvested wood and recycled materials! (safe and durable, we promise)

Who:
Stilt construction will be led by Ruby from Wise Fool Community Arts, Stilt Walking led by Kerri from the Green Circus.

How to get there:
A FREE shuttle will be available from the 24th st. Mission bart station leaving promptly for Woodshanti at 9:30 am both days, and returning there directly following the workshop. Look for a VW van with the Green Circus logo.

Workshop Description:
We will be building wooden peg stilts in the tradition of Bread & Puppet, Heart of the Beast and Wise Fool. These low-tech, easily constructed stilts have an upright pole, a peg that your foot sits on and a wooden brace that rests against the knee for stability. The peg stilts are lightweight and thus easy to dance, jump and skip on. We will be building stilts that will raise you approximately 2-1/2 feet above the ground. This is an ideal size to learn on, as you can still be supported while learning by holding hands with people on the ground. The wood for the stilts will be pre-cut and prepared by Woodshanti.

Pre-Registration:
deadline is Monday, January 12th, along with a $55 deposit to secure your space and pre-cut stilts. Please call Jenny at the Green Circus to register 415 541 5646. The rest of the balance will be due in cash on the first day of the workshop. Please bring lunch for yourself and goodies to share.

For more info, call Jenny at 415 541 5646, or email : jenny@greencircus.org.

WOODSHANTI is a worker owned cooperative, operating in San Francisco since 1997. We specialize in building the highest quality furniture using sustainably harvested and recycled lumber, http://www.woodshanti.com

Wise Fool Community Arts is a non-profit organization that uses art and theatre as vehicles for community building, self-determination, social and political change. http://www.zeitgeist.net/wfca/wisefool.htm
---
Friday, november 14
:

---
SATURDAY, SEPTEMBER 27
EAST NEW YORK FARMERS MARKET
circus workshops for the kids and adults
hoolah hooping, poi, spinning plates, juggling scarves
---
SATURDAY, OCTOBER 18
9AM TO 7PM
Oddfellows Playhouse Youth Theater
in collaboration with the American Youth Circus Organization
presents the first-ever NEW ENGLAND YOUTH CIRCUS FESTIVAL, 2003
at Oddfellows Playhouse 128 Washington Street, Middletown, CT.
The Festival was open to anyone interested in youth circus, though young people 12 and under must be accompanied by an adult. Youth performing groups will work together on a separate track from the Festival participants to prepare for a 5 pm performance in the theater.
---
SATURDAY, OCTOBER 16
4pm -5:30pm
East New York After School Program for 8-10 kids, 10-13 y.old.
---
SATURDAY, OCTOBER 11
Lower East Side Girl's Club
presents harvest festival
environmental workshops, face painting, live music, as listed in TIMEOUT and the New York Times
---
SUNDAY, AUGUST 24


LONG ISLAND FAMILY AND KIDS EXPO
Presented by the Urban League of Long Island and Shocklee Entertainment. This is a two-day outdoor & indoor event for children and families with an educational and personal development focus.
---
Friday, june 20
8pm
this Friday
June 20th

8 pm
Activist Yoga
with Rana
(peaceful activist
training)

9 pm
Climbing training
with Brad

10 pm
The Drala Show
by Green Circus

ACTIVIST FORUM

Bring information about your project
to share with the community and
learn about:

Cascadia Summer

Freedom Summer in Palestine

Indymedia's Veggie Bus

Green Circus Biodiesel Tour


TUNES:
by DJ Sims (spinning grooves, soul sister anthems and jazz funk jams)

BURLESQUE:
by The Fun Club


ANALOG BEATS:
1Heartbeat Native Drumming

FILMS and VIDEOS:
by Indymedia, Warcry, and others

HEALING:
Free massages by Bobbi & Paul and HBH (Hot Breath Healing) with Ann


$5 suggested donation

Cash bar

@ The Sanctuary
56 Walker Street
in Manhattan's Chinatown between Broadway & Church

J M Z 6 N R 1 9
A C E
to Canal Street

Ring top buzzer. Once inside, use door code
#531 to access stairwell(at your right)

Take stairs
to 5th floor
The Activist Playground
@ The Sanctuary

Heal yourself as you heal the world
featuring music, dancing, videos, burlesque, yoga, climbing, healing, and activist community exchange

---
Sunday, June 22
1pm
---
friday may 2
6pm-4am

Verde Vérité (Green Truth)
Akoya-The Village Green-Dha Fuzion-Hello-The Lonely Samoans and MUCH more!
Short Films at 6, Music at 7:30
WARSAW
261 Driggs Avenue, Greenpoint, Brooklyn (map)
www.verdeverite.com
Info Line 212.252.5154
Tickets at www.ticketweb.com Toll Free (866) 468-7619
Schedule:
Green Circus will be performing throughout this event.
5:30p - doors open
6:00-7:20p Short Film Festival
7:30-8:15p The Howling Makams
8:30-9:15p HELLO
9:30-9:45p performance art with Green Circus and friends
10:00-10:45p The Village Green
11:00-11:45 Akim Funk Buddha
12:00-12:45a Les Sans Culottes
1:00-2:00a Akoya
2:15am-close DJs
---
Saturday April 26
noon-6pm

Staten Island Greens Eco-fest (free)
Martini Red
372 Van Duzer Street (map)
7:00 p.m. - 11:00 p.m.
Winter Palace, 151 Winter Ave.)(map)
Art show, video screenings and performances.
$2.00 suggested donation
---
Thursday April 24
7pm - 9pm
Sierra Club's Celebrate Spring Benefit ($25)

Walker Stage
56 Walker Street in Tribeca (map)